DJATO Adiatou
Mrs. DJATO Adiatou, 43 years old, is one of the promoters. She lives in Badékparou in the commune of Tchaourou, department of Borgou in Benin.
His project is to promote the production of sheep and goats and make their sale a source of income to support his household.
Since June 2018, the promoter has benefited from a financial support of around 1.700.000 FCFA from the Foundation which enabled her to acquire a large sheepfold of thirty (30) sheep and goats and to build her sheepfold. His personal contribution, estimated at 40%, was used to build a storage warehouse, purchase feed, hygiene and sanitary products for the animals. Thanks to the support of our technicians the animals of his sheepfold are doing well. Today his sheepfold already counts 15 heads of young in addition to the 30 of the departure. It is a very profitable activity for her, she confided to us during the interview. The sale will take place during the festive season.
BONI KOTO Eudoxie
BONI KOTO Eudoxie, resident in Sirarou in the commune of N'Dali. She is 41 years old and is the mother of 4 children. She is the second promoter who benefited from a credit of 966.500 FCFA.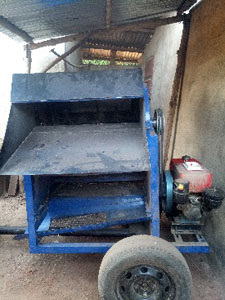 Its project is to promote the production, processing and marketing of soybeans. Thanks to this credit, she has increased her production capacity and has also purchased a multi-purpose shelling machine to process soybeans. She has hired a large workforce for her work. With this ginner she also provides services in the village.
Like the first one, she made a personal contribution of about 20% of the total cost of the project. She also benefited from the technical team's support and advice for good management. Her expectations have been fulfilled as she has been able to harvest more than 12 bags per hectare thanks to the inoculum.
LAFIA Cathérine
LAFIA Cathérine, is our third beneficiary. Aged 38 and mother of 3 children, she benefited from 648000 for the purchase of ploughing oxen.
It has also entered into the production, processing and marketing of soybeans to diversify its business. Its contribution to the cost of the project is 20%. Thanks to these oxen she ploughs her own field and also provides services in the field of the neighbours. She ensures the minimum for her household by this activity and her husband says he is very proud of his wife to whom he never ceases to give advice and help. Long live women's entrepreneurship in Benin, long live the Foundation alongside women, long live the eradication of malnutrition and poverty.
DJATO Adiatou – BONI KOTO Eudoxie – LAFIA Cathérine