Day 26
Arrived and received a festive welcome in Parakou!
This morning we arrived and received a festive welcome at the offices of the Hubi & Vinciane Foundation in Parakou in Benin. The final street run could count on a lot of enthusiastic 'participants' and the support of the Ministry of Health. Here you will find a report from the local television of the Borgou region.
In total, 80 people gathered 7,979 km. Solid efforts despite the cold December weather! Our fundraising campaign raised more than 15,000 euros. With this we can create two extra vegetable gardens with irrigation and thus ensure a more balanced diet for two villages.
More information about our project 'Healthy food, locally grown' can be found on our webpage https://hubi-vinciane.be/en/projects/agriculture/vegetable-gardens-project/
Thanks for your sporting and financial contribution!
Thanks to you we are one step further in realizing our dream for Benin.
Day 24
Arrived in Ouidah in Benin!
This morning we arrived in Ouidah, a town on the Atlantic Ocean in Benin. We now have more than 7,000 km on the clock. Ouidah (https://goo.gl/maps/FiXVeyKs1YTjy9iu9) used to be a center for the slave trade from West Africa to Brazil and the monument "La Porte de Non-Retour" on the beach refers to this.
A delegation from the Foundation and the Belgian Rotarians run onto the beach. After 7000 km in the legs, they still do it smoothly. To view on Facebook. (https://www.facebook.com/hubivinciane/)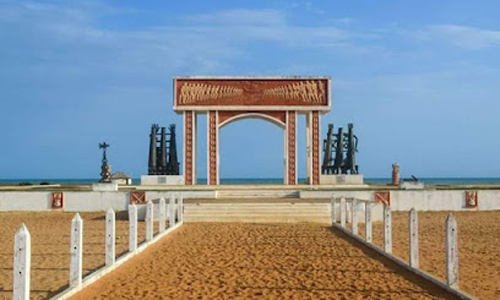 Another good 400 km to cycle, walk or hike to meet our local Benin team in Parakou.
Merry Christmas and thank you for your sporting and financial contribution!
Day 20
With 7 days to go we have 5,300 km on the clock and we have arrived in Agadez in Niger, still fully in desert area.
Via Niamey and through Burkina Faso and Togo we head for Lomé on the Atlantic Ocean, before making a final sprint to Parakou in Benin.
Going up a gear, there are still 2,600 km to travel in the last week of our challenge!
Day 13
Worked well this weekend!
We have already traveled 2,740 km together and arrived in Oujda, Morocco. Just browse the local shops and then back on those sneakers to continue. Now we head straight south, through Morocco, Algeria and Niger to Burkina Faso: a tough desert trip!
To get all the way to Parakou by 26/12 we have to go a bit further and mobilize some more cyclists, runners and walkers. keep going!!
Day 11
Our volunteers, Daniel and Chris, walk together with colleagues from Catholic Education Flanders. A total of 47 kilometers added. On the way to Parakou.
Day 10
This weekend we 'keep up' across Spain! The weather is getting better (and certainly in Spain) ??
If we all go up a gear this weekend, we will make the crossing to Morocco early next week.
Hop, hop, "Keep up"!
Dag 7
Arrived in Bordeaux!
We have already covered 840 km. Now quickly take shelter from the bad weather but then continue to gather kilometers. Vite, vite!
Are you not yet running, walking or cycling? We need you! Register quickly!
Day 3
Bonjour a tous!
The runners, walkers and cyclists have just arrived in France. That deserves a breakfast! A croissant, quelques framboises et a café… Mmmmm!
All ready for the kilometers we will cover this weekend.
---
Day 1
This is the 1st message from our famous "A leg-up for Benin", on his virtual journey from Leuven to Parakou! He has 7,500 km to go, walk or cycle. And another 7,500 km to get back to Leuven.
Help him and contribute with your "kilometer"!